Cal Eco Kernville 2006 Race Report
Having been abandoned by all our female teammates due to illness, loss of job or "training" Grant and I were forced to race as a 2 person team for the first time.  Grant committed to follow me blindly all over Southern California regardless of how bad the terrain looked.  He picked up the 2 person kayak from Thomas Bastis and showed up at my house on Friday evening with the biggest boat I've ever seen on the top of his little truck.  We loaded the truck with all of our equipment and headed downtown to pick up our super supporter Hailey from her new office.  This was the first time Hailey had supported us and she was a little shocked by the amount of stuff on top of the truck that she would have to drive.  Now we were all together we started the 6 hour journey south to our overnight stop in Bakersfield.  This would give us a very relaxing drive the next morning to the race start.
After a good night of sleep and a very large breakfast we drove to the race start on the banks of the river Kern just north of Lake Isabella.  When we arrived we were treated to 90 degree temperatures and high winds.  As we drove past the lake we could see white tips on the waves all across the lake.  This was going to be an interesting kayak section to say the least.
At race sign in we were told to show up at the race briefing ready to go with PFD and crash hat on.  We were also told to cross the bridge and check the rapids so as we would know the correct route to take on our way downstream. 
We were also told that we would have to throw a Frisbee closest to a pole to get our start seeding.  This was great for us as Grant had been to ultimate Frisbee nationals in a former life and was the perfect pick for getting us a good start.  We were a little disappointed with second seed but Grant blamed it on pre race nerves.  Apparently first place hit the pole and the Frisbee just dropped to the floor.  We were closest with a real throw..  The teams would go off at 30 second intervals to spread the carnage through the rapids.
Now, the pre race instructions had mentioned a little class 1 rapid that would need to be negotiated on the way to the lake, but it didn't mention anything about crash hats or the class 2+ rapid that we were about to face.  When we crossed the bridge and took a look at what we needed to navigate both Grant and I were looking for a way out.  Grant is never happy in the boat and as the most experienced of us he always gets to play with the pedals in the back.  This meant that I'd be in the front as a wave breaker when we hit these huge rapids.  We seriously considered the portage but both decided to face the river like real adventurer racing men.
I decided that it was time to get the boat ready and asked Grant where the spray skirts were that we would need for the rapids.  Grant looked at me as if I was an idiot for thinking that he would have picked up spray skirts with the kayak, what was I thinking?  I then asked if we had a bilge pump to empty the boat when it took on water.  Again he looked at me as if I was stupid.  Why would he bring a pump for a lake paddle?  I asked him what he would do if we tipped the boat over and he said that wouldn't happen cos the lake was flat…  I'd seen the waves coming across the lake due to the high wind and reminded him that it wasn't flat out there and this was going to be more like an ocean paddle.  Again he mumbled something about spray skirts and Thomas but I'm not sure what he was trying to say.
I decided it was time to fix this and ran off to get us some spray decks and a pump from the local rafting store.  I was looking around for super supporter Hailey to help us out and I eventually found her in the store shopping for sunglasses!   We're 30 minutes away from dying in a raging rapid and our support has gone shopping!  I asked for some help in the store and found that they had some spray skirts on sale for $19 along with a pump for $17.  This would turn out to be the best $60 I ever spent on a race.  I ran back to the boat and made everything fit while I got all my other stuff together.  Hailey showed up a little while later sporting a nice new pair of full face sunglasses that seem to be in fashion right now.
During the pre race meeting I'm sure Dan was trying to scare us even more by telling us that we would probably all be in the water by the end of the rapids.  He was even telling us the best way to swim them for when we did fall in.  Looking around at the teams I don't think he was too confident in our ability with a boat.
With this new information we went away with the maps to plot our route and get the boats to the start line.  We only had 20 minutes to panic and there wasn't much plotting I was going to do at this point.  I made sure I crossed off CP 1 as it had been cancelled and looked at CP 2.
We were lined up at the start behind a four person team and ready to race.  To say we were scared was an understatement.  When Dan started counting down 30 seconds we climbed into the boat.  It took us about a minute to get the skirts on and into the water.  The third seed solo team of Mike Moffett passed us before we even left dry land.  Dam we're losing places already but it was a long race so not to worry..
From looking at the river we'd decided that once we got onto the water we would paddle out to the middle and line up to take the center line downstream.  We paddled as hard as we could and lined everything up just as planned.  I'm now looking at huge boiling waves in front of me and I'm thinking I'm gona get wet..  Grant was yelling PADDLE as loud as he could and we went into the first rapid.  The waves hit me square in the face as the boat bucked and pitched over the first rough water.  Then I was up in the air and Grant was still yelling PADDLE even though I couldn't actually reach the water as the front of the boat was so high..  We made the first part and in front of me I could see the bottoms of two boats and people swimming for the shore..  After we made the first part of the rapid we had to get over to the left into a calmer eddy to negotiate the turn in the river. Grant was yelling something at me again, I think it was PADDLE but I'm not sure, anyway we went into the eddy and the boat spun around now facing upstream.  We'd made it, things were calm for a minute.  We looked around and saw the first two teams trying to pull their boats to the side.  We decided it was now or never to continue on and turned the boat back into the main flow.  As we did this we saw the next set of rapids which seemed larger than the first!!  No one mentioned these at the start.  We went into them with the same plan of just paddling as hard as we could.  I spent a bunch of time completely in and completely out of the water as the boat rode the waves and we were now leading the race with the words PADDLE ringing in my ears. 
The lake paddle was just a straight shot almost directly south.  Dan had cut CP 1 due to the high winds on the lake which was fine with me.  As we got out into the open water there were 2-3 foot swells tossing the boat around.  We had a direct head wind to paddle the next 6 miles in.  We settled into a rhythm and laughed at what we had just been through.  We wondered if anyone else had made it down the river behind us because we couldn't see anyone following..  For the next hour and a half we made slow progress and chatted about the race so far.  We were getting close to CP 2 and TA1 when we saw Hailey on the shore with the camera.  She was waving and jumping up and down in a bikini in front of 2 fishermen.  When she ran off to the truck I shouted at them "how'd you like that?"  I got the big thumbs up and thanks from them.  I was laughing so hard.  I bet they don't see that too often while fishing.
<![if !vml]>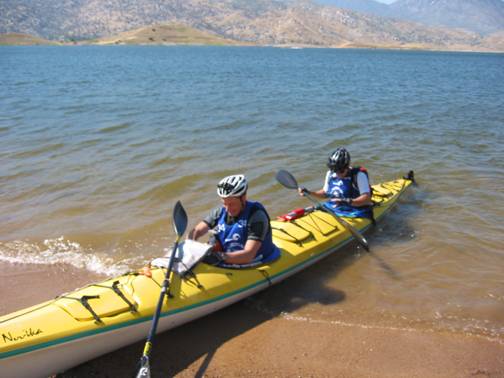 <![endif]>
When we hit the shore we left the boat for super crew and ran to the truck.  There was the most amazing spread of food I'd ever seen.  Grant couldn't believe his eyes.  All the race food he'd ever wanted laid out in little baggies ready for him to take. 
<![if !vml]>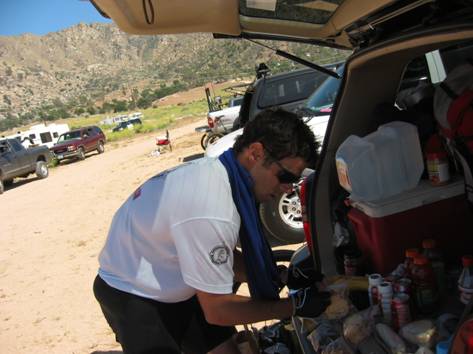 <![endif]> Grant and the food
While Grant messed with food and his bike I started plotting our route to the next CP in the back of the truck.  I looked at the rules of travel and it said we couldn't use Hwy 178..  The next best route was across the dam and onto the trails that headed south.   I marked the route and off we went riding.  Dan was jumping up and down in the TA as the two solo guys who came in behind us had just ridden out onto Hwy 178 clearly against the rules.  It looks like they've got their first penalty right there.  Mike did come back and cross the dam but Kent was riding south at high speed with Dan watching him through the Binoculars.   After about 150 yards of riding Grant started complaining about problems with the new pedals he'd put on his bike so we had to stop and get the wrenches out.  The first mechanical problem was taken care of.  Remember the old story of never using something for the first time during a race??
We ended up riding with Mike for the first 3-4 miles laughing and chatting about the kayak section.  On one of the up hills Grant dropped his chain so we had to stop for a minute with that Mike saw his opportunity to lead and rode off at a high speed.  Grant was pushing hard trying to catch him but I told him to hold back as I felt Mike couldn't hold that kind of pace for the whole race.  He would eventually blow up or make a nav error from pushing too hard, he'd already made a few wrong turns before he left us.  Turns out he did both and didn't finish.  I know how that happens cos I've been there as a solo.   He did look really strong while we were watching him ride away.
So now we followed Mike's tire tracks for the next 5 miles looking for a small trail that Dan had made us draw on the maps.  We eventually found it but not before ending up in a small parking lot by the highway, we'd missed the trail entrance by about 100 yards.  As we decided to climb over the fence to get to the trail we saw that someone else had taken the same route as us from the highway side of the fence, the grass was all freshly trodden down.  When we hit the dirt trail we were now following 2 sets of bike tracks in the dirt. 
We were looking for CP 3 at a location called Greenwood Cave.  This was basically a secluded spot at the bottom of a hill.  Dan had left a camera there with instructions for us to take a team photo when we punched the CP.  We took the picture and ran away due to the number of flies buzzing around, I'm sure something must have died nearby. 
As we were climbing out from the CP we saw 3 teams coming down the hill towards us, True Grit with Oliver, Rabbit Fire with Jason Quinn and one other 2 person team.  We said hi as they were walking down and we were pushing our bikes back up.  We should have left our bikes at the top. Duh!   Still we were fast going down.
We then set out on the next leg to CP 4.  This was going to be a long climb to the top of the mountain.  As we climbed the hill Grant decided to jam his chain over the big cog and into his rear spokes and just for good measure, stamp on the peddle backwards and forwards a few times to make sure it was dug in there deep.   It took nearly 20 minutes of work to pull it out and get things shifting again.  I was surprised we didn't get caught by the other teams at this point.  We crested the ridge and it started to get dark so we put the lights on and headed down hill about a mile. The trail we wanted ended at a fence with a big "No Trespassing" sign hanging on it.  We could hear a stream nearby and decided to take some time to fill up with water.  When we'd done that we saw more lights coming towards us on the trail.  It was Oliver and his team.  We had a discussion and decided we all knew where we were but we weren't sure what to do about the no trespassing sign.  Eventually Oliver and I climbed the fence and went to investigate.  After about 15 minutes we found the real trail and I called Grant to bring the bikes over. 
We needed to go across country to get to the next road and once we found it we had a long climb to the top of the World and CP 4.  We found CP 4 just as the front brake on Grant's bike broke.  I spent another 10 minutes fixing it before we set out again waving at Oliver and gang as we headed back to the road.
From here it was all downhill to CP 5 and TA 2 where we would drop the bikes and Hailey would have ravioli waiting for us.  When we hit the CP we were told that Mike and Kent had been there a couple of hours earlier.  I guess they biked fast!   The service crews were hanging out watching Brokeback Mountain on someone's PC.  I heard later that this caused quite an argument between super support Hailey and a particular homophobic service crew member from another team...  Glad I got out of the TA before that went off…  Even Jesus was thrown into the mix from what I hear.  Only in America.
<![if !vml]>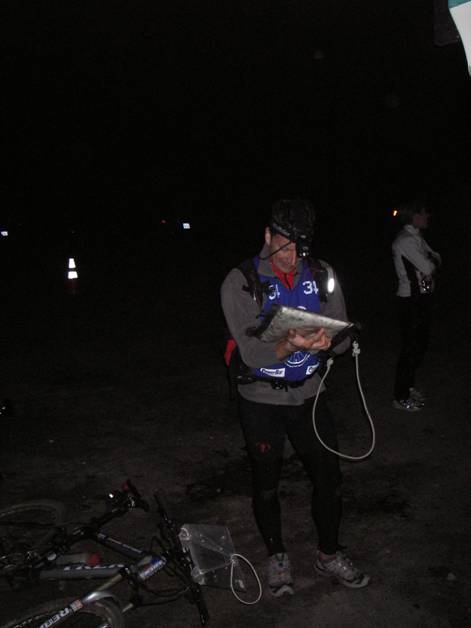 <![endif]>
After more fantastic food we headed out on the trekking and orienteering section.  I was feeling good and we were in good spirits.  Grant was showing me the Ultra Marathon trick of peeing while still moving.  Seems he could do it while walking backwards and forwards.  Nice trick.  I tried it and ended up peeing on my shoe.  We found the first two O checkpoints without much trouble but the third was proving more difficult in the dark.  After 30 minutes we decided to quit and take the 30 minute penalty.  We later found out that none of the teams found this CP so I'm glad we didn't spend any more time on it.  As always with Dan's O courses the CP's are generally well hidden under bushes and rocks.  I'm sure they're easy to see in the daylight but nighttime is a whole different issue.
Now we had a monster trek of about 12 miles in front of us that took us back to the top of the ridge and across to the Kern River Valley.  To me this proved to be the toughest part of the whole race.  When we hit the top of the climb we found the dirt road, sat and had some food while we looked at the view.  Once we started moving again we were making good time.  I stopped to adjust my shoe at one point and as I knelt down I saw the biggest bear print I'd ever seen in the dirt at my feet.  When I looked around I saw a whole bunch of them.  They were about 5 inches across with 1.5 inch claws!!  I showed Grant but he was denying the existence of anything dangerous out there in true ostrich style burying his head in the sand.  I was now walking much faster and trying to look large.  Like 5'6" looks large in any light.  I knew Grant was a faster runner than me so I ruled out that option if we encountered the owner of the huge paws..  Luckily we didn't see anything.
We'd been walking for about 6 miles when I see Grant walking in front of me pulling his pants down so as I could see his ass.  He then bent over right in the middle of the trail and pointed at a rock saying "what's that".  All I can see is hairy ass, two hairy nuts and a large rock on the ground.  I tell him it's a rock.  He bends over again and says "no, what's that?"  I say "it's a rock".   He says "what about my ass?"  I just look at him and say I was trying to ignore that hairy thing.  I still have no idea why he did it but it gave us a good laugh.  It was just the weirdest thing to see in the middle of the trail at 4AM and it wasn't a sleep monster, it was just Grant and his hairy ass.
We kept moving until I ran out of water again and stopped by a stream to fill up.  Grant just lay down and started to sleep.  With the bladder full we continued till we hit a paved road.  The sun was just starting to come up and it was getting colder.  Now we had to keep moving to stay warm, we even saw patches of snow in the woods.  Grant had pulled his arm warmers down and tied knots in the end to use them as gloves while my hands just went numb.  After another 3 miles we found the dirt trail that would take us back across the ridge and down to the Kern River.  The trail started out really clear and easy to follow, we were doing well and were making good time.  The sun was coming up and we were getting much warmer.  As we moved along the ridge the trail suddenly started to fade and became difficult to follow.  We were able to pick it up but then we came to a tree with a trail symbol on it that just sent us off the cliff.  We looked down and could hear the river below us.  I decided that we should just head down the side of the mountain until we reached the river and then make our way along till it hit the intersection with another stream and the trail we wanted crossing the river.  This was a fine plan in theory but not as easy in practice.  There was a lot of bushwhacking and sliding till we hit the river.
Once we were at the river it was more difficult to move due to the amount of water blocking any path along the shore.  We eventual came to the intersection and easily found the trail that we needed.  Now all we had to do was cross about 2 miles of fairly easy terrain to get to CP 6 and TA 3.  It was a long slog and took another hour and a half, but when we crossed the bridge to the main road we could see the CP ahead of us.  And there jumping up and down in the middle of the road was Hailey back in her bikini!!  I almost cried.  When we punched the CP we were told that the only person to have come through was Kent.  Mike was still out on the course lost somewhere.  We were also told that we didn't have to use the trails to get to the finish we could just ride straight down the road.  Dan had shortened the course as he was worried about finishing times for the teams. 
<![if !vml]>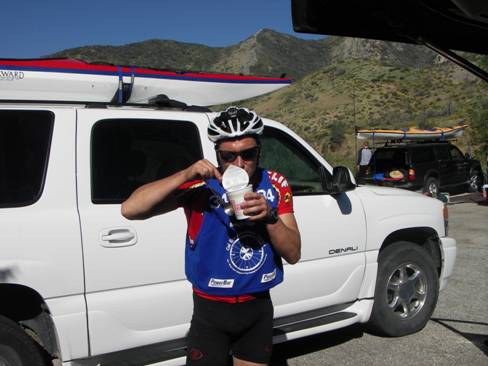 <![endif]>
We had a quick lunch and jumped on the bikes for the 14 mile scenic road ride back to the finish at downtown Kernville.  This was the best part for me, I was cruising along really happy.  Hailey passed us in the truck and took photos of us riding down the road. 
<![if !vml]>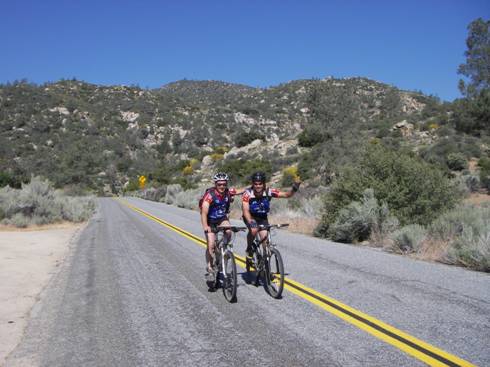 <![endif]>
We arrived at the finish line and Dan was there looking very relaxed.  We'd finished second behind the monster solo team of Kent Ryhorchuk.  He had beaten us by a couple of hours for a fine first place finish.  We won the 2 person division and took 2nd place overall and were very happy with the days events. 
This was the first outing for us as a 2 person team and it went really well.  ARNavSupplies.com/Team Nomad put in a great showing at this fantastic event.  Grant's preparation for Primal Quest is going really well.  He showed no signs of fatigue and was very relaxed throughout the whole event.  I think PQ will be a lot of fun for him.
Thanks to Hailey for her wonderful support and food selection.   Also thanks to or sponsors Salomon, Clif bar ArNavSupplies.com and anyone else who helped Hailey during the event.
Kernville is a great place to race and Dan put on a spectacular event.  I'll be back for that one next year.
<![if !vml]>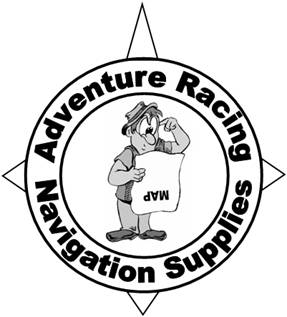 <![endif]>
Cheers,
Mark.
www.ARNavSupplies.com