AR Navigation Supplies Wins SF Night and Day for 2nd Year!
June 2nd-3rd 2007
As this would be my 3rd San Francisco Night and Day Challenge and I was hoping to be well prepared for 2007 with a good knowledge of the City and another fantastic team to race with.    This year the team would be Myself, Mike Prindiville and Mari Chandler who both have phenomenal running/AR resumes and were going to push my endurance to the limit.
We had all raced together before so we knew each others strengths and weaknesses and I was dreading the run.  I knew I'd be feeling the pull of the tow rope at some point during the night.  Hopefully I'd be able to pay them back on the bike if I wasn't too wrecked after being dragged around the city on the end of a bungee cord for 8 hours.
It was really relaxing starting the race at 4PM.   I had the whole morning to get my gear together.  I spent a little time putting the production version of my rotating map holder on the bike.  I'd been running the prototype for 6 months and it was time to start using the real thing.
It was good to catch up with all the familiar faces at the start.  I hadn't seen many of the people since The Sea Otter AR in April.  We sat on the lawn and waited for the maps to be handed out while the weather just seemed to get colder and the fog started to roll in.  When we received the maps it was clear that this year's event would be more compact than previous years.   All of the 62 CP's were in the City and there would be no trip to Marin or San Bruno Mountain.  With 4 CP's including mandatory cutoff times we had to plan our route and CP order very carefully.  We decided to take in all the CP's with closing times early in the race and then make 2 big loops out of the rest.   We made the decision to tackle the most hills on foot taking in as many of the high points and steeper terrain while we were fresh on foot, leaving us a long but relatively flat outside loop for the rest of the CP's on the bikes.
After making a CP list and high-lighting the route on our maps, all that was left was to do was wait for the start.  When the race started we managed to avoid getting caught in the crush to get out of the gate and started off down the hill.  We were immediately overtaken by the duo of BAARBD Fixie doing the 16 hour event on fixed gear bikes, one of which had no breaks.  We watched as the bikes were skillfully skidded around the turn by locking the peddles in an attempt to slow the bike down.  They were flying and I thought that they were going to be difficult to beat over the 16 hours as we had 8 hours on foot to start with.  The terrain wasn't in their favor with only one gear so we would see.
It appeared that the Dirty Avocados had started out on the same route as us, as well as Galen, Oliver and the new Jen of team BAARBD Wire.   We all crashed into the first few stores in a frenzy, the poor staff must have wondered what was happening with a bunch of frantic AR racers trying to get answers in a hurry.  After this we must have taken different routes and CP orders to the other teams as we didn't see anyone else for a few hours. 
We looped up the hill behind the start and took in the highest CP's around Twin Peaks and Beuna Vista Park before dropping down to Market Street for the last CP with a time cutoff just before 6PM.  After that it was off to downtown and a loop through Pacific Heights and the Presidio.  As we got up to Pacific Heights we ran within one block of my house and the urge to stop for a snack was squashed by Mike and Mari who wanted to keep moving.  We took a shortcut into the Presidio by jumping the wall and working our way cross country to take the CP at the Vista Point. 
After this I realized I'd run out of water and we needed to make a stop for refreshments.  We found a Wallgreens in Laurel Heights and took a short break.  At this point we realized we were ahead of schedule so we decided to add some more "inner" CP's while we were on the run, saving us from having to divert for them on the bike leg.  This meant a trip through Golden Gate Park.  Just as we left the park we ran into the Dirty Avocados.  We came from different directions and had taken wildly different routes to get to this point, but we were now going in the same direction.  Donato, the Adams and Aja all had plenty of food that they had picked up on 9th Avenue.  There was even rumor of pizza slices being picked up.  We all started running together down 9th  Avenue but with Mike setting the pace and Mari pushing me from behind we created a gap before CP103.  We spotted them again just after 103 but with some twists and turns we were out of sight just in case they wanted to Nav off us.
We had a decision to make at this point.  We needed to get across to 7th Avenue but there was a steep 100 foot drop down to the road.  We went to the end of a Cul-de-Sac and noticed a goat path leading down the cliff.  It was either this or an additional mile loop North or South.  The only problem we had was the goat path ended with a 15 foot sheer concrete wall down to the road.  While Mari and I made our way along the outside of a fence to where the wall was much lower, Mike hung over the edge and dropped down much higher up.   One of the advantages of being tall I guess.  This gave us a good lead on the Avocados of about 5 minutes.  We saw them on the return leg of the out and back CP 34 and I'm sure they were wondering how we got so far ahead in such a short time.  A little urban bushwhacking always helps.
After making our way to Mount Davison for CP 91 we again decided we were ahead of schedule and added CP's 39, 52, 75, and 74 to the run list.  At this point we felt that we needed to go faster to get the CP's before the midnight transition to the bike but I was cracking and couldn't maintain the pace.   To make up for this Mike broke out the tow line and hooked me up while Mari took my pack.  I have no idea how fast we were going but it was one of the more painful experiences of my life.  I was being dragged along while giving garbled directions with the concrete pavement pounding my feet.  To add to the pain we ran straight past CP 23 on our way back into the transition and had to backtrack a couple of blocks to find the right alley with a small church hidden down it. 
We hit the transition at exactly 12:00 just as BAARBD Wire were leaving.  Apparently they had been there for nearly an hour resting and feeding up ready for the bike leg.  A couple of minutes behind us team Big Green with Jen Ratay and Scott Porter came in.
One of their teammates girlfriends came walking down the street with a large Pizza just as I was putting my cycling shoes on.  They had delivery during the race!!   We'd been eating at Wallgreens and they were having Pizza delivered in the TA. 
Both these teams were going to be tough to beat so we would need to hammer the bike to make up any time we lost sitting in the TA.  Due to the additional CP's we collected on foot I needed a little time to adjust the map and plan a new route.  We stocked up on food and left around 12:20 to start the bike section. 
Our bike route would take us East through the Mission District at about 12:45 AM.  Prime drinking time in those parts.  We were trying to dodge drunken pedestrians and even worse drivers as we made our way across town.  We received some weird looks from people wondering why we were all dressed in race gear instead of our party outfits, but mostly they ignored us in favor of the next bar or the hot chick freezing her ass off in a mini skirt.  We made our way through China Basin into Downtown before hitting the Embarcadero, Fisherman's Warf and the Marina.  As you expect at 1 AM on a Saturday night the Financial District was deserted but somewhere the was a really cool sounding rock band playing.
Things were going well until we got to Fort Point.  The cops were there and very upset about teams truing to get out to the base of the Golden Gate Bridge after dark.  Apparently Homeland Security requires that they secure the landmark from crazy Adventure Racers after dark.  They were blocking the road and closing the gates.  I tried to get one of them to sign our sheet to prove that we'd been there but they were having nothing to do with us.  We decided to leave and worry about it later.  I heard that other teams were met by soldiers with machine guns but that may have been more of a sleep monster than then a park ranger.   Jen Ratay told us that the park police gave them the answer to the CP and even posed for a picture.  I guess by that time they'd decided that the race wasn't a threat to Homeland Security and they could actually have some fun with it.
We made our way up through the Presidio were we met BAARBD Fixie at CP 88.  I asked how things were going and all I got was "we've had better days".  It had started to rain or more like the fog had started to drip and I guess the roads must have been very slick, especially on the down hills.  Gota love that San Francisco summer fog.  It was going to be cold and damp all along the ocean.
We headed downhill to CP 62 but before we got there something went wrong with Mike's bike.  A major bolt had dropped out of a suspension linkage and now the whole rear triangle was loose making the handling really unpredictable.  We stopped and brainstormed how to fix it.  We managed to jam a carabiner in the hole and hold it there with some duct tape.  It didn't fix it completely but at least it was a little more stable now.   It was around this time that my headlamp decided to quit and would only give me the LED's rather than high beam.  This was fine on the roads but the next CP was hidden way back in the woods and it took a while to find the right trail in the dark.
CP 62 was tucked away behind the VA Hospital at Fort Miley.  We found team Big Green at this point and said hi before continuing our anti clockwise loop.  It seems that the other teams had decided to go clockwise so we would pass a few more in the night going the other way.   We flew down the coast with a couple of minor detours inland to pick up CP's 86, 42, 32 with a loop around Lake Merced.  We only had 4 CP's to go before the finish.  The second from last would turn out to be a real challenge.  It was at the top of Bayview Park which is the 400 foot large chunk of dirt that overlooks the football stadium.   There is only one road up this thing and the top is covered in Poison Oak.  If you came here in the daylight it was probably obvious where the trail was but it was about 4 AM after a long night and we had a little trouble.  Once we'd found the CP we threw down some soup that Mari carried with her and made our way down the hill to snag the final CP on our way home. 
I was certain at this point that our problems on top of the hill would lose us the race so we were charging home with the climb to the Douglass Playground the only obstacle in our way.   I hate that hill at the end of the race.  It doesn't matter what order you do the CP's you always have to make this steep 200' climb at the end of the event.
When we reached the playground everything was quiet and very dark.  It was about 5:20 AM.  All the lights were out in the hut and there was a sign on the door that said please knock before entering.  I banged on the door and went in to find the event organizers wrapped in sleeping bags catching some well deserved sleep.  Having woken them up I was guessing that we were the first team home but I had to ask them to make sure.  It turns out we were the first team back and if all of our answers checked out we would win the event for the second year in a row as AR Navigation Supplies.
After a quick check of all of our answers it was done.  We'd Won!  Now we got to relax and eat while waiting for the other teams to come in.  I immediately lost my bet of 15 minutes to what turned out to be a 50 minute lead over BAARBD Wire who came in second and about 1 hour over team Big Green who were 3rd and the Dirty Avocados not far behind them. 
The 2007 San Francisco Night and Day proved to be another fantastic running of the event and I'd like to thank Terry, Eric and The BAOC for hosting it. 
CP Order
Run
33 31 36 51 54 71 85 87 22 61 63 47 29 89 27 82 26 105 45 25 28 103 34 55 91 73 39 52 75 74 35 95 53 23
Bike
44 84 41 104 21 81 83 42 43 102 24 64 88 62 101 86 46 93 32 76 38 94 72 57 96 92 56 37
Total Time:  13 hours 28 minutes.
Elevation Gain: 8875'
Run Distance: 23.6 Miles
Bike Distance: 58.4 Miles
Suunto Download
<![if !vml]>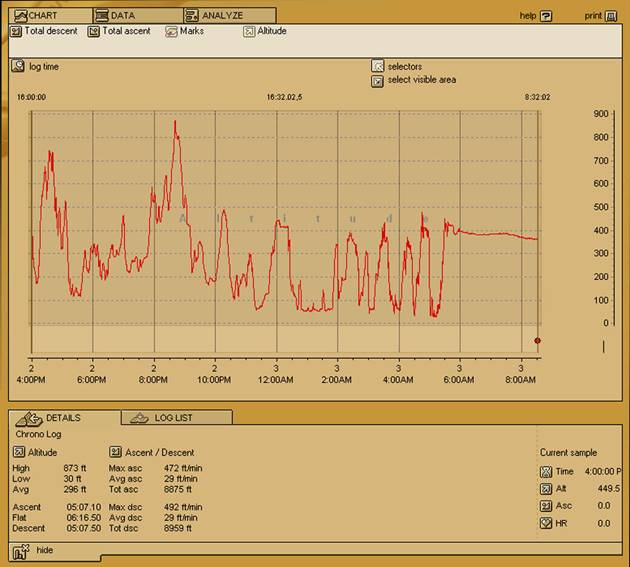 <![endif]>